Custom Entry Door

•

Solid (Euro Technology)

•

Transitional Collection

•

Single with 2 Sidelites

•

GD-314PT 2SL-F
Quote / Email Now
Shown in Mahogany with Espresso Finish
close up
Privacy Satinato Glass with Bevel (also available Clear Glass with Bevel). Slab Thickness: 2-3/4 inches.
Model
Design

External

Dimensions

(inches)

Wood

/Finish

Glass
GD-314PT 2SL-F
Single with 2 Sidelites
65 x 98 x 4-9/16
Mahogany with Espresso Finish
Clear-Beveled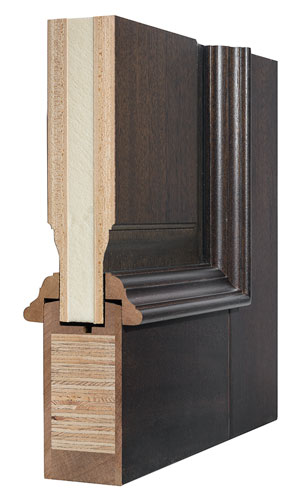 Solid (Euro Technology)
Raised Panel with Big Raised Molding
Euro Technology is a unique construction method that maintains the high-end look and feel of a solid mahogany wood door while providing dramatically increased stability, durability, and thermal performance. Doors built with Euro Technology are composed of finger-jointed and edge-glued stiles and rails constructed with solid wood pieces, a rigid polystyrene core, and real mahogany wood veneer. This results in a door that looks and feels like a traditional solid wood door, but with far better performance.
GD-314PT 2SL-F
Traditional Style Door. Mahogany Wood, Satinato Glass #364
i